Excerpts
Introduction: A Walk To Remember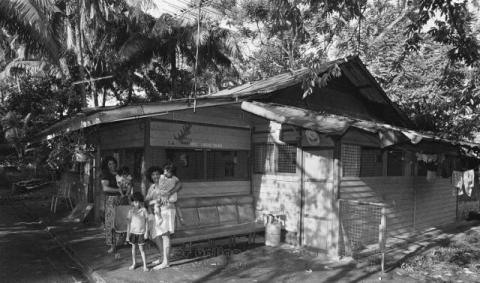 A little boy broke ahead of the curious crowd of little children surrounding the ang moh and dashed towards Ah Cheng's home. A palpable sense of excitement filled the air that hot ordinary afternoon. It was the first time that the kampung of about five Hainanese families at Singapore's Arumugum Road had seen someone like him - a white man. He was in his sixties, with a gentle smile and twinkling blue eyes. Tall and full of energy, he strode confidently amidst the chattering children and the cacophony of barking dogs, knowing full well that he would eventually be led to his intended destination.
As they ushered him from off the main road of Paya Lebar to the deeper recesses of the village, the crowd following him expanded to include the older folks. It was the 1960s and they never expected an ang moh to visit a place as poor and remote as theirs. But more so, they could not figure out why he had come specially to see Ah Cheng. They surveyed his clothes and were even more puzzled as his shirt was paper-thin and as shabby as theirs. It was an image they could not reconcile, having just left behind the colonial past, when the ang mohs reigned supreme as masters of the universe, and where they would be served in 'higher places' in comfort and style.
"Ah Cheng! Ah Cheng! An ang moh is looking for you!"
14-year old Tau Cheng stared shell-shocked as the white man and his fellow villagers descended upon him. He thought disbelievingly to himself, "Did he actually walk all the way from Bartley, past Tai Seng, to visit me? That is at least a good three to four kilometres away!"
He had met John Willis just a few weeks before at the Youth for Christ Club situated in a little shophouse just opposite his Bartley Secondary School. As his parents gestured the friendly foreigner into their little old and broken down attap hut, Ah Cheng stood shyly and smiled, obviously proud that his dear pastor had come just to see him. By then, the whole village had been roused. Many came to get a glimpse of the drama, peeping through the windows of Ah Cheng's hut
The visit was short but it left an indelible impression on that little kampung. After he left, his parents and everyone else peppered him with questions like who he was, where he had come from and why he was there. Tau Cheng simply said that he was from the church. Deep down in his heart, he knew that Pastor Willis had communicated with his presence something he could never explain adequately in words. His very presence had brought to all of them in the kampung the very first semblance of Christianity and godly love from a white man. Before that, they had never experienced a stranger coming to visit them. He had not come to preach, but simply to reach out to and get to know Tau Cheng, his family and neighbours. He came dressed plainly like them and assimilated well into the lower echelons of Singapore, displaying the same selfless spirit as that of his beloved Lord and Master Jesus Christ, pouring out his love everywhere he went.
John Willis had not just come from Bartley Road Christian Church, as it was known in those days. At the age of 62 in 1966, he had travelled more than halfway across the globe from Chicago, Illinois in the United States after a lifetime career in the postal service. It had been at the invitation of Reverend John Lu, the Southeast Asian Director of the Christian Nationals' Evangelism Commission (CNEC). Rev John Lu wanted him to pastor 25 young people, the English congregation of the Chinese CNEC Church at Jalan Rindu. John Willis obtained a visa for seven months as he had commitments in Hong Kong, Japan and Chicago. However, when the time came to make the decision to go to Hong Kong or stay on in Singapore, he decided that the young people in Singapore needed him more. Miraculously, his visa was continuously extended and renewed, with the permitted lengths of stay varying from two weeks to a year, for the next 38 years! Little could he have imagined then that his third missionary visit to Singapore would turn into one where he would embrace Singapore as his final home or that the 25 young people he was so attached to would grow to a family of more than 960 adults.
As Pastor Willis shared in 1992, "I never thought of going to the Far East, and never, never dreamt that I would spend the rest of my life out here. I was happy and contented in Chicago, but God changed my whole lifestyle. But these 26 years have been the most wonderful years of my life. God gives us the best if we leave the choice to Him - this is more than a cliche to me."
Pastor Willis had stepped out of his comfort zone and responded obediently to the commandments of God. He walked his life in love, simplicity and humility, letting God lead every step of the way till he went to his eternal home at the ripe old age of 99 in 2004 and probably heard his Master say, "Well done, good and faithful servant!" Who is this American who dedicated his life to God and demonstrated Jesus's love to us? What compelled him to embark on adventures in more places around the world than the average human? Let us now discover and emulate his journey of faithfulness.