Why Should We Be Grateful?
Extracted from One of Pastor Willis'S Annual Christmas Letter...
"The costliest gift was given to the human race two thousand years ago. It was a child born in a Bethlehem stable and laid in a manger. The most costly Christmas brought the gift we are in need of the most: a Saviour. This wonderful Good News was proclaimed by the Angel: "Fear not, for, behold, I bring you good tidings of great joy, which shall be to all people. For unto you is born this day in the city of David a Saviour, who is Christ the Lord."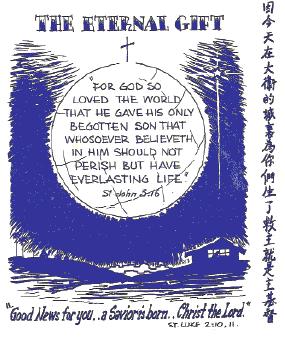 Why was God's gift so costly? There are three reasons:
The greatness of the need. The world and its people are at stake. Sin alienated Man from his creator, he is estranged from God.
The greatness of the gift. Not only was the need great, but the gift was also great. "This is my beloved Son," God said, "in whom I am well pleased."
The greatness of the cost. His death was much more than a martyr's death. Read of His suffering in Isaiah 53, Psalm 22 and Psalm 69. The cross was only part of the price He gladly paid.
Jesus Christ did not die for His own sin or because He was a victim of circumstances. He came as God's Supreme Gift to you and me.
Have you overlooked the really important gift of Christmas?
The Bible says, "But as many as received Him, who believed in His name, He gave power to become children of God." John 1:2