Latest News
23 September 2010: Book Review by The Christian Post
The Christian Post wrote a beautiful review on An American We Are Grateful For entitled "Beautiful Memories of a Pastor Whose Life Shone".
8 September 2010: The Christian Post Article
Edmond Chua, CEO/Publisher of The Christian Post penned the article "Book Records Impact of People's Pastor"
17 August 2010: Spiritual Mentoring Talk by Dr Andrew Goh
"Every Christian needs a mentor. Not everybody wants one or can tolerate one. For the mentor essentially is a Constant Reminder - that God is at work in one's life... Having someone to pattern one's life after - besides the Lord Jesus Himself - or learn from is a precious experience and privilege." So says Dr Andrew Goh (Honorary Editor of Impact magazine and Chairman of the Singapore Advisory Council of World Vision International) who gave a talk on "Spiritual Mentoring", jointly organised by Singapore Christian Foundation and Crest Christian Book Corner on 17 August 2010.

5 May 2010: Talk on Writing by Philip Yancey

Philip Yancey, the award-winning bestselling American author, was in Singapore on 5 May 2010 and conducted a talk entitled "Explore the Secrets of Successful Writing". The talk was jointly organised by Campus Crusade Asia Ltd-Mass Media, Cairnhill Methodist Church and Biblica. While he was sharing a point on "platform" or "voice" as the first key to quality writing, he mentioned the book An American We Are Grateful For.

1 April 2010: Impact Magazine Article

Impact Magazine carried a story on the book launch in its April/May 2010 issue in its People & Events column.

27 February 2010: Official Book Launch

An American We Are Grateful For was officially launched on 27 February 2010 at the commissioning service of the new building of Bartley Christian Church. Senior Minister Mr Goh Chok Tong was the Guest-of-Honour at the event and was presented with a copy of the book. One book was sealed in a time capsule to be opened half a century later - July 2062 - on the 100th anniversary of Bartley Christian Church!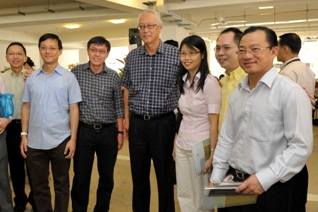 27 February 2010: Establishment of PJW Missions Endowment Fund
Copies of An American We Are Grateful For were donated to Bartley Christian Church (BCC) by Singapore Christian Foundation. In loving memory of Pastor John Willis, BCC has set up a PJW Missions Endowment Fund. The proceeds from the sale of this book via BCC will go towards this Fund that will be invested and its income used to help disaster relief work in Third World Countries as well as missions work.